Curious public not polluted by the adults' prejudices, the children often take on arts and culture a natural and frank look. And they also make a lot of noise in museums when they have a reduced rate and imagine that the Mona Lisa was a stamp before being a painting. On this Friday of the Museum Week dedicated to children, I propose you to read or reread an article published on the blog in October 2016 ; here is a reminder.
Crosswords
In China until the last century, it was not uncommon to meet young children wearing charming tiger-shaped hats and slippers. With very colorful fabrics, patterns accented with sequins, pearls and even bells, these accessories for children charming for naïve Western visitors, however, are nothing but serious. They act as protectors against the demons, diseases and other wandering spirits who run, eager to seize the life of the child or at least his vitality.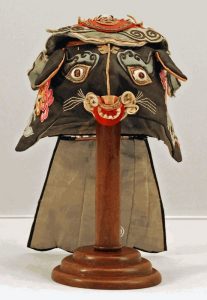 Tiger-shaped hat, North China
XIXth century
Private Collection
©Silk Road Collection
The Chinese are fond of homophony and the reason why the tiger's motive is much more popular than Trotters's bodysuit finds origin in this taste for the links between words.
The word for the tiger is hǔ word also meaning "intimidate". It is homophone of the words "protect" and "defend": hù. Because of this, the tiger has always been considered a protective animal in China, its symbolic is rich, it is the second animal of Chinese astrology and also the second most important after the dragon.
Exorcist in The Making
Infant mortality has long been a scourge in China, a serious concern for parents for whom the child is an important investment in the future: he will perpetuate the cult of ancestors thus making each of its members immortal and will guarantee help to its parents in their old age.
The precautions taken to protect the lives of Chinese children are therefore numerous and sometimes rely on beliefs deeply rooted in Chinese culture. Thus, the subtleties of language and writing, the reuse of Chinese characters to form others reflect a culture and beliefs that affect everyday practices. Supported by a strong linguistic basis, the hats and slippers of the Chinese children have been conceived as real costumes for miniature exorcists!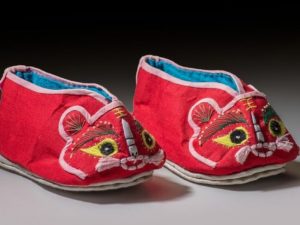 Tiger slippers, China
©Kean University
Protect by the tiger, the child dismisses the demons who would like to seize him. In China, as everywhere in the world, children are a treasure, guarantors of transmission, and their parents strive to protect by all the means at their disposal. Sometimes poetic means like here hats and slippers looking mysteriously disturbing.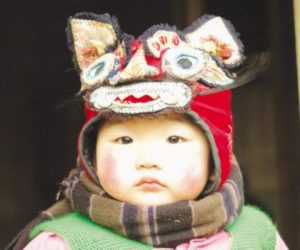 Chinese kid, XXth century
Be informed of the publication date of the entire article translation, subscribe at the english newsletter !
Suis et aime Objets d'Histoire ici