It will soon invade your Instagram feed and swimming pools, it will be the subject of countless selfies: the swim ring shaped avian species loaded with ecstasy is back. Quick history of the swim ring and its drifts (haha).
Get Your Head Above Water
The human being, as your sagacity will have already noted, is not equipped with fins or gills. But the human being is teasing, pretentious and imaginative to pretend to go on the water before going under. However, the first wave that his boat soaked up quickly made him realize that it is particularly difficult to keep his head out of the water in a force 10 wind on the Beaufort scale. Some have learned to swim and others have suggested attaching floating objects to ropes attached to the boats so that in case of a fall, the unfortunate has a chance to save his skin. It seems that the Norwegians, through the Viking culture, were the first to set up rescue devices using belts made of blocks of wood or cork which allowed to float somehow on the surface.
And it is to Leonardo da Vinci (1452 -1519) that we probably owe the first life belt: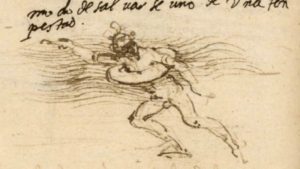 Sketch of Leonardo da Vinci
Manuscript B of Paris, f. 81 v
between 1488 and 1490
Institute of France, Paris
However, we must wait until the 19th century before the life belt can be modernized. Then appear two different types of life belt: the day life belt and the night life belt.
The day one is a cork disc covered or not with waxed fabric that is crossed by a vertical metal tube. An ingenious mechanism makes it possible to make appear from this tube a red flag as soon as the life belt falls in the water. Thus, the person fallen overboard is more easily identifiable.
The night one knew several versions but the most accomplished night life belt is the one invented by the denominated Seyferth and Silas (this last was archivist for the French embassy) at the end of the XIXe century. These two scientists used the properties of phosphorus – which emits a light in contact with the air – to the necessities of rescue at sea. They created a night life belt similar to the day one but provided with a cavity in which was placed a tube of phosphorus. It was enough to open the tube for a chemical reaction to occur and emit light that would not be impeded by water or wind.
Silas Life Belt System
Nature – Science Review, 1, Nos. 1 to 26, 1873 (pp. 241-242)
article written by P. de Saint-Michel
Of the 48 life belts on board on the Titanic, several were equipped with a luminous device inspired by that of Silas. Note, however, that given the temperature of the water in this frisky night of April 14th, 1912, there could have been as many life belts as passengers, the deaths would have been just as many since most did not die drowning but of cold.
The 48 life belts of the Titanic were corked and covered with a white waxed fabric. They did not carry any inscription. They more or less look like that :
Life belt in cork coated with white canvas
Cork Museum of Maureillas-las-Illas
© Domaine de la Tourasse
The bridges of the big cities were long equipped with life belts that the passer-by could easily launch in the water if he saw a person in distress. In Berlin, they are still numerous but those of Paris have disappeared, partly because of the cleptomanes Parisians and other fetishist tourists of the city. The latest, tired of constantly replacing life belts, gave up. But it created instead Paris Plage. We still do not know if it is a punishment or not.

Life belt box, Canal Saint Martin, Paris
© Karambolages, Arte
Before coming to Hipster's glittery swim ring and its history, you know that the life belt is a sadly topical object for many years now.
Therefore the life belt is the subject of ever more perfection, like your smartphone, except that here we do not save lives on Candy Crush but many lives for real, human lives.
The Portuguese company Noras Performance has created the USafe life belt, a remote controlled life belt shaped horseshoe which each branch is equipped with jet propulsion. It allows anyone to save lives: the rescuer steers the life belt remotely controlled by a joystick to the person to rescue and brings it back safely on land or on the boat, always using the joystick. We wish this company a great success.
Hit Rock Bottom
Today, the swim ring has become a business. A mix of pop culture, mastery of plastic, low-cost work and a crazy egocentrism, the swim ring is the accessory that will upgrade your photos, the one that will transform any boring person in an hysterical college cheerleader, the one which will transform your holidays at West Wittering in a stay in Ibiza and your sunburns in a Kardashian-like tanning.
Giant unicorn, golden swan, pink flamingo who seems acid-high, who are they? What are their networks?
It all started about a century ago. In the years 1920/1930 England and France lived its Roaring Twenties: necessary period of carelessness after a trying war (1914 – 1918). People want to laugh, recreation is developing and with them the public pools. While England has already 308 public swimming pools in 1922, France has only 22 ! But, well, we still has Riviera…
Before, baths and pools were synonymous with hygiene, we went there to not smell the wet dog and to see people. Some river basins allowed learning to swim but they were not financially accessible to all.
In 1924, the first swimming pool dedicated solely to swimming removed the notion of hygiene from that of leisure. From this date, aquatic activities are developing, from sea baths to swimming lessons in public swimming pools, the phenomenon is growing.
In the 1960s, the first private pools appeared and became an outward sign of wealth. Sign that is accompanied by other signs of wealth.

Richesse = piscine + camera + Hollywood
©Giphy
It is to a Vietnamese that we owe what has become an indispensable part of the pool: the leisure swim ring.
Nguyen Manh Khanh (1934 – 2016), who will later adopt the name of Quasar Khanh, was Philippe Starck's mentor. This engineer of the Ponts-et-chaussées, born in Hanoi in what was then the French Tonkin, arrived in Paris in 1949. It is a little by chance that he discovers that compressed air in a volume of plastic becomes a material of great strength.
The air is constructible: material encompassing all other materials, it can be contained instead of being filled and thus serve as an elementary brick

© Velvet-galerie
This genius designer launches from this observation its brand of inflatable furniture in 1967. It was named Quasar. The Aerospace furniture line is a pure product of its time: inspired by the spatial conquest that marks the sixties, the lines are fluid and play transparency. Like rockets (or smoke from hippies zoots) the era wants lightness, carefreeness. By realizing this kid's dream of going to the moon, the young sixties falls into a regressive need where color is everywhere, joyful and happy-go-lucky.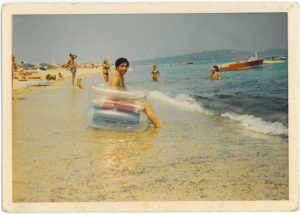 Quasar Khanh looking happy in his Chester armchair
Club 55, Saint-Tropez, 1967
© Telerama
Instantly (and without Instagram) the Quasar furniture becomes an icon of pop culture. It is a symbol of modernity, avant-garde with this material that goes against the codes of the older generations still stilted in wood and gilded bronze. It is of course a young elite who seizes this furniture that we find in 1968 in the movie Le Cerveau of Gerard Oury. Everything is there: David Niven in the role of a Mafioso financially at ease in a pool (rich) drinking champagne (rich) in a Chester chair (rich) of the line Aerospace.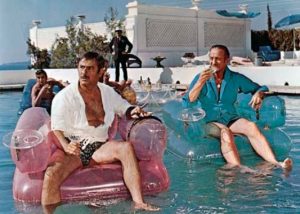 Swimming Pool Scene in Le Cerveau, 1968
© Mag Les Grands Ducs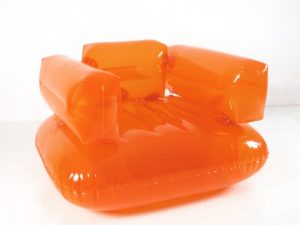 Chester Armchair
Orange translucent polyvinyl chloride,1968
© Velvet-Galerie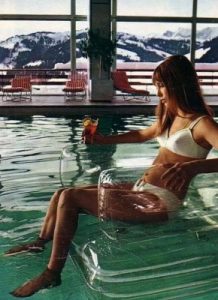 Jane Birkin does not escape the Quasar phenomenon
© shhhp.tumblr.com
Soon, the inflatable pool furniture is democratized, adapts to the tastes of its time and then becomes tacky. A time. Until the day Instagram was born and with it its stars whose filtered and photoshoped life made your life a pale and tasteless picture as sad as a supermarket on a Sunday morning. What was thought kitsch and corny became fashionable and desirable again: the inflatable furniture then adopts new forms retaining the regressive colors and the naive character that made the success of Quasar.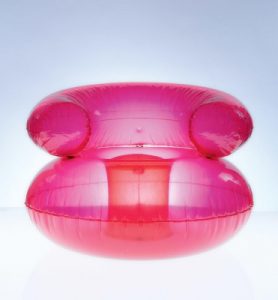 Satellite Armachair, pink translucent polyvinyl chloride,1968
© Télérama
If the inflatable avian race proliferating in hot weather on social networks seems to borrow all the codes that accompanied the birth of inflatable furniture during the sixties, you will still note that these objects are now serving an aestheticization of reality that loses in fact, all reality.
On the contrary, Quasar's design was a sort of unreal (the future with the conquest of space, the new materials, the colors in television – and television!) in everyday life.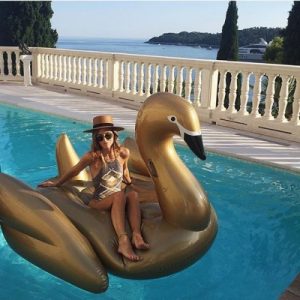 A very natural pose where this lady
does not seem either tense nor photoshopped
© Funboy Instagram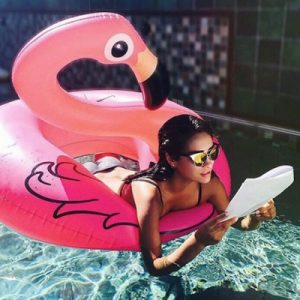 An ordinary day
where you read your balance sheet of the year
on an inflatable pink flamingo
©Bigmouthinc
But it is true that nothing to fuck on a big inflatable buoy remains a timelessly delicious activity. Have a nice summer everyone !
SOURCES :
de JARCY Xavier, Les années Quasar Khanh, inventeur gonflé du fauteuil gonflable, article paru sur  Télérama.fr le 2 mars 2017 (consultable ici)

DEMEURE Yohan, USafe, voici la bouée de sauvetage du futur, article publié le 10 février 2017 sur le site Sciencepost.fr (consultable ici)
KARAMBOLAGES, consultable ici

Le Bas

Antoine, « Des piscines et des villes : genèse et développement d'un équipement de loisir », Histoire urbaine, 2000/1 (n° 1), p. 145-162. DOI : 10.3917/rhu.001.0145.
LEPORTOIS Daphné, Pourquoi vous voyez des bouées flamant rose partout cet été, article paru sur Slate.fr le 19 août 2017 (consultable ici)
de Saint-Michel P., La Nature – Revue des sciences, 1, nos 1 à 26,  (p. 241-242)

www.velvet-galerie.com
Suis et aime Objets d'Histoire ici